BLACKENED HORROR METAL
---
'The Ghost Sonata' out now
Blackened horror metal band VEILE's full EP 'The Shost Sonata' is a sinister collection of three dark and unsettling compositions. VEILE's music can be described as black metal / horror metal with symphonic elements, presented in a creepy, storytelling package.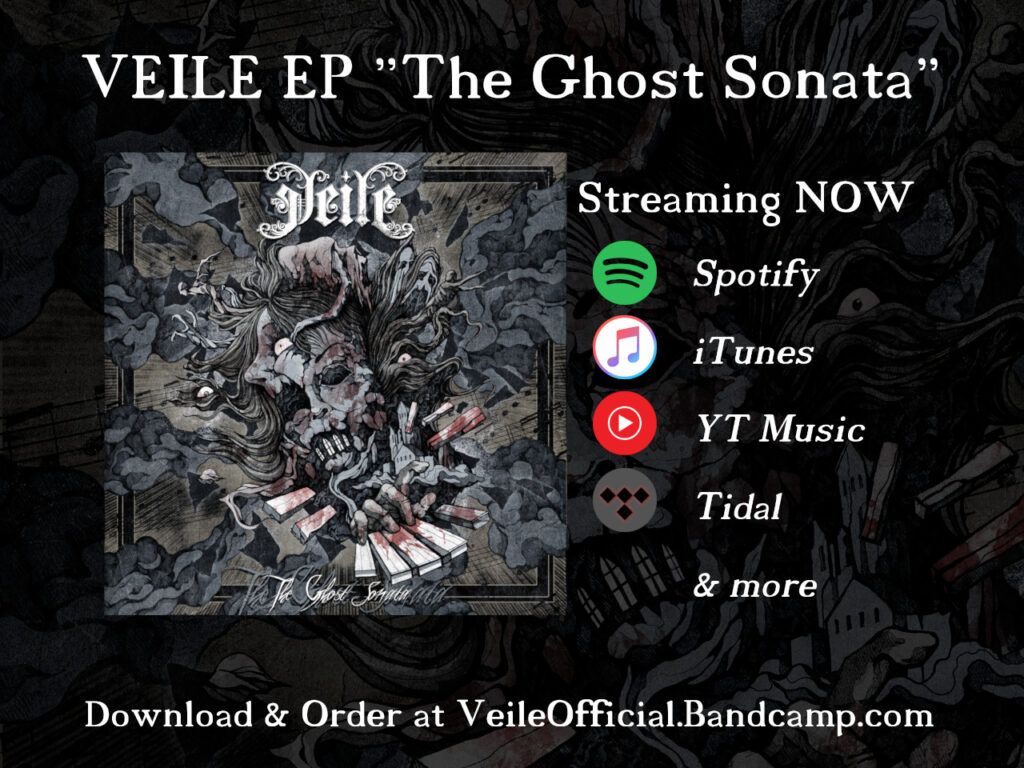 Where to stream Veile – The Ghost Sonata
'The Ghost Sonata' is to be bought in form of a vinyl style CD at Veile's BandCamp page. The EP is also available on all prevailing streaming platforms.
Listen to Veile – The Ghost Sonata on (amongst others):
In case you find yourself at a party with an open YouTube casting cue, here's the FULL EP STREAM:
---
Single 'The Unwelcome' out NOW
New blackened horror metal band VEILE (UK/NL) release their first single 'The Unwelcome' on March 26. VEILE is the creative outlet of composer/guitarist Charles Edward Alexander Hedger [a.i. MAYHEM, R-KOMPLEX], drummer Frank Skillpero [a.i. GOD DETHRONED, THE MONOLITH DEATHCULT (live/studio sessio)] and vocalist/multi-instrumentalist Anabelle.
Unassociated with any of the names the members have on their resumé, VEILE operates as a DIY entity on the black & horror metal spectrum. Acting as their own manager & label, the band chooses to release their first attacks on your nerves through digital channels exclusively. VEILE implores you, blackened horror metal fan, to help them expel the spring equinox by sharing this prophetic tale of darkness with anyone you'd wish to STAY HAUNTED.
'The Unwelcome' is the first of a series of dark and unsettling compositions, haunting orchestrations and an unseen spectacle of multidimensional, sometimes nearly psychotic vocal outbursts. The lyric video that accompanies the song is created by Costin at Twilight 13 Media, with animated lyrics and additional editing by Frank Schilperoort.
'The Unwelcome' is available on VEILE's Bandcamp page and social channels, as well as streaming services such as Spotify.
Don't forget to subscribe to our mailinglist and
STAY HAUNTED!
---
Blackened Horror Metal
VEILE brings to life the chilling atmosphere of bygone times with blackened horror metal arrangements and lyrical themes from witchcraft to dark folklore. Many layers will be unveiled to the ear, as CHARLES ALEXANDER HEDGER's vigorous riffs and FRANK SKILLPERO's versatile drums are but the foundation for ANABELLE'S astonishing spectacle of multidimensional vocals and haunting orchestrations.
VEILE reminds us that the tomb cannot bind the tales of those cast out. Unveiled, we will be exalted in all generations. Resting 'til the resurrection morn. The best is yet to come.
Pulvis et umbra sumus